Elevate Your Design Game
Welcome back! We're thrilled to introduce you to a game-changing tool that will take your design skills to the next level: the Template Designer. No need for any drum rolls, just a reliable and cloud-based solution that will empower your creativity. With the Template Designer, you can easily create and share templates for various purposes, from ID cards to certificates. By offering schools additional design options for their in-house services, impress and retain new business like never before.
This blog is just a taster of what this bad boy can do. Watch the webinar linked below to see a deep dive into the functionality.
Unleash Your Creative Flexibility
Getting started is a breeze. Access Template Designer right from Studio and step into your very own creative haven, where templates are just a click away. They're automatically linked to your Studio session, eliminating the need to juggle between different tools.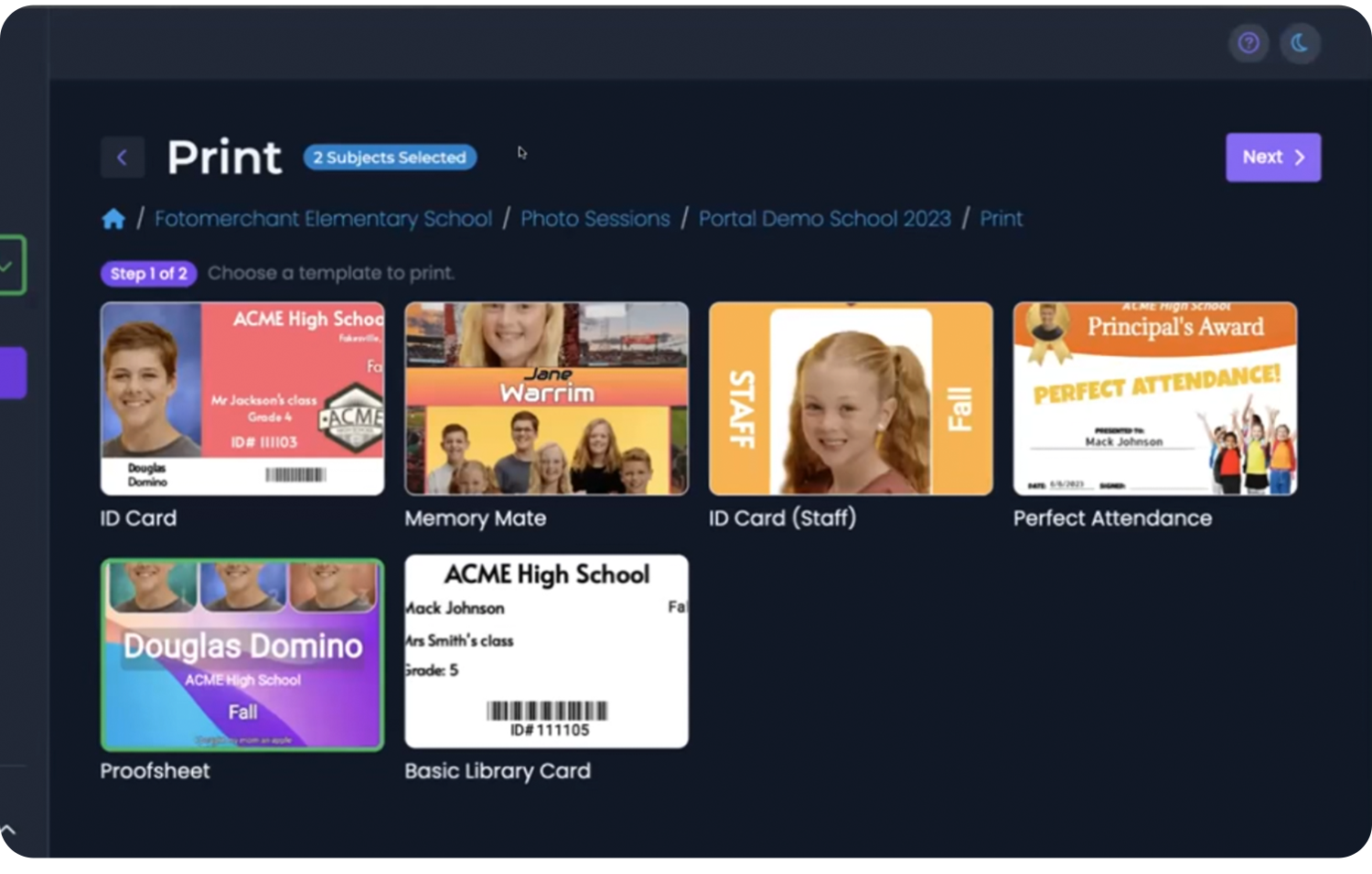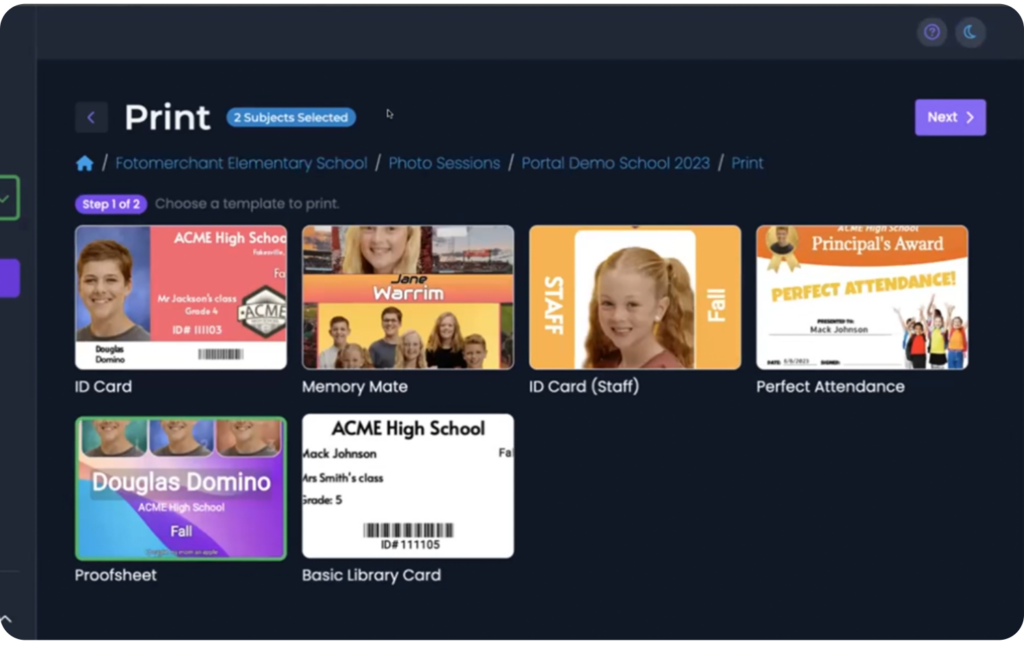 The Template Designer is all about flexibility. You can work with a single template and fine-tune it to your needs or effortlessly create variations. If you need to make adjustments, just duplicate a template and customize it to suit your project. Simple!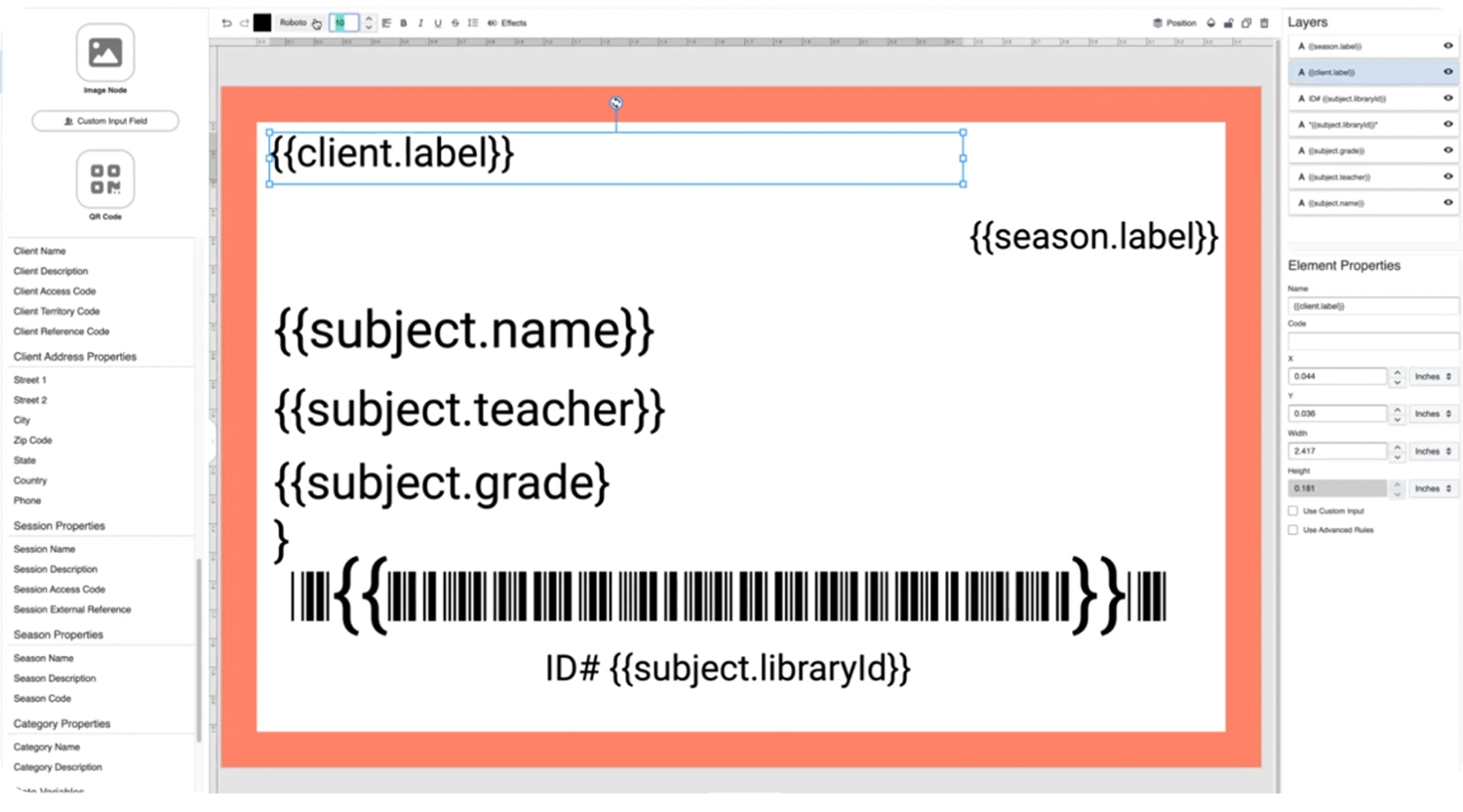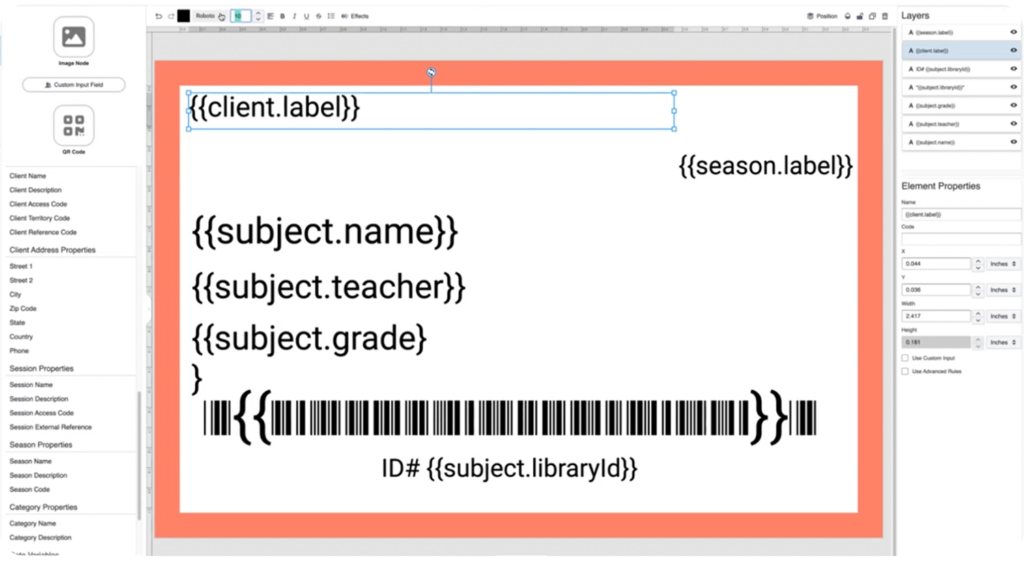 Discover the Key Features
Let's dive into the exciting features that Template Designer offers. Easily create headers, sub-headers, and body text, acting as placeholders for client labels, addresses, cities, states, names, and more.
With these placeholders, populate the relevant subject data from Commerce/Studio. By configuring advanced rules, you can make specific lines transparent if you are supplied incomplete data. This ensures only available information is visible. Brilliant right? Remember, it's always best to export a small sample to test!
You can add image placeholders, choose between original or JPEG images, and seamlessly remove backgrounds. Want to populate a cropped image from your session? We've got you. Customize your design to pull precisely the image you'd like to populate.
With Template Designer, utilize a vast library of backgrounds, allowing you to craft truly unique ID cards. You've got options! You can link your own background folders through Commerce (which is also linked to 36Pix) and even import your own images straight into Template Designer. You can also access an additional background area that pulls from the vast library of stock images from Unsplash. The template designer is your oyster!
Say you are using one set color as your background; with advanced rules, you can configure the background to change color depending on the grade or any other parameter you desire.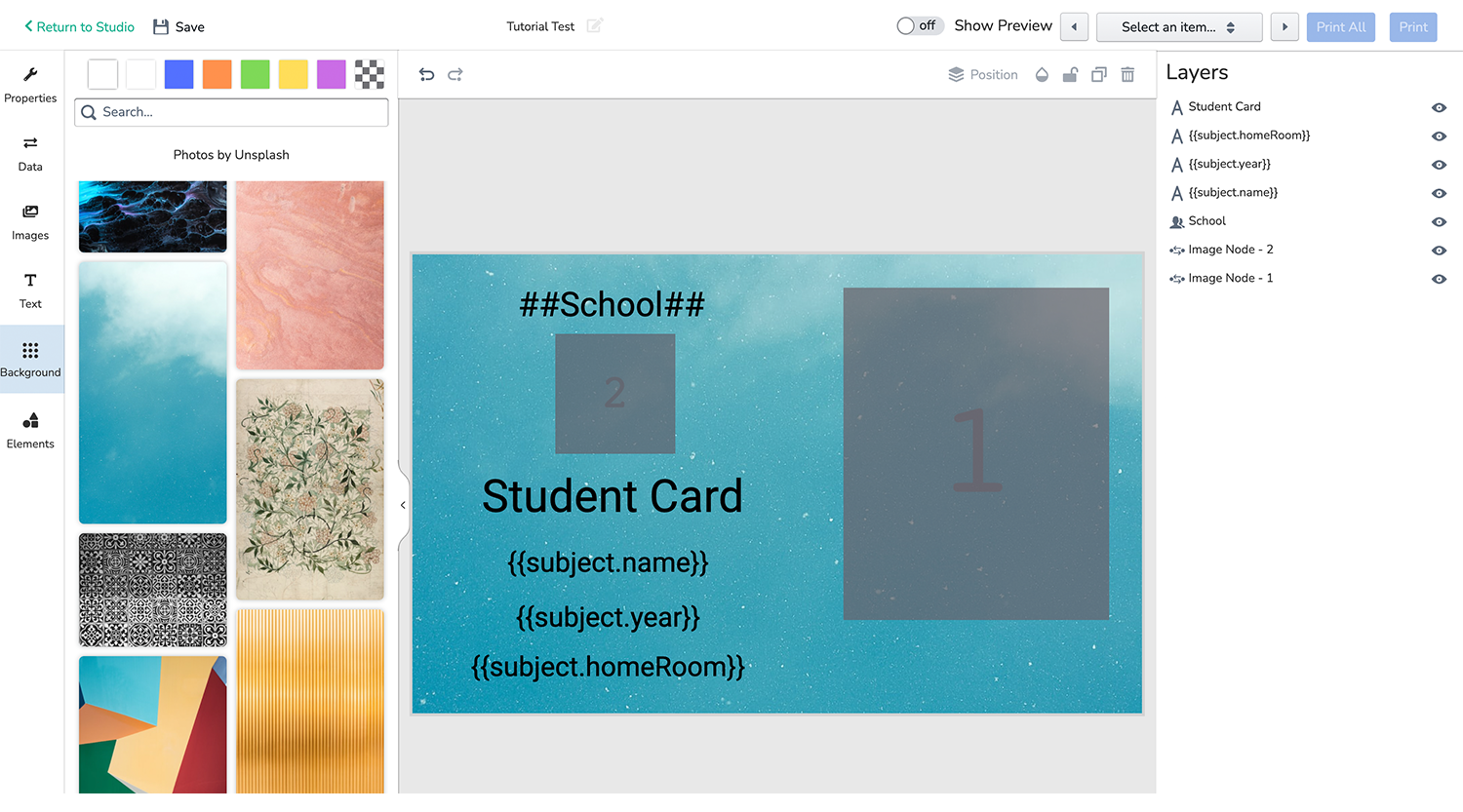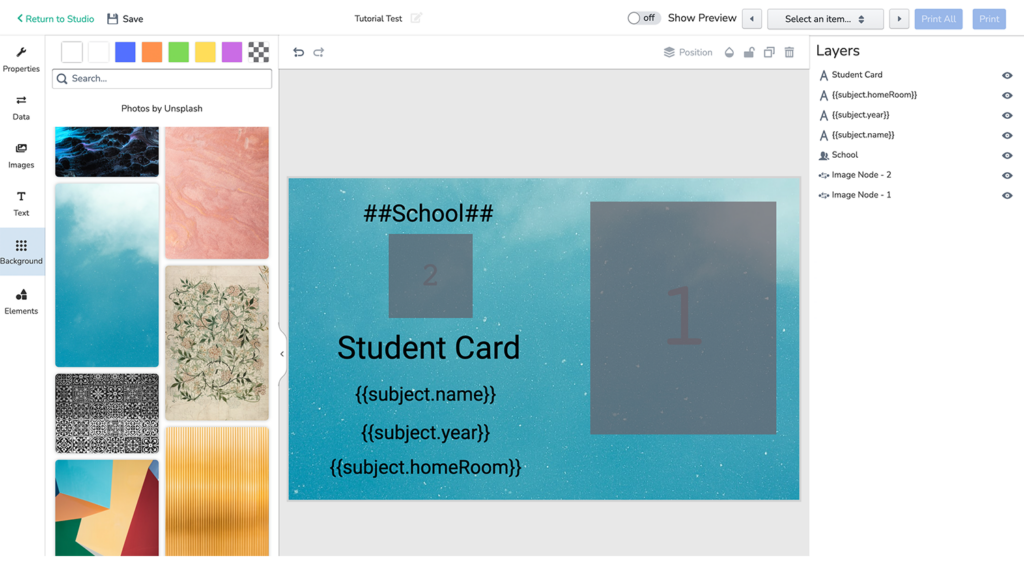 Need to add a special addition for students on a set bus route or a specific cafeteria option? With Template Designer, you can! Green for Option A, Blue for Option B, etc. It sure is a clever bit of kit! 
You have a wide array of media elements at your disposal, making image uploads a thing of the past. Just drag and drop your graphics and watch your designs come to life.
Seamless Integration with Portal
Templates designed with Template Designer are seamlessly linked to Portal, making it easy for schools to locate students and print replacements. It's all about streamlining your processes. Every time schools print or render using Template Designer in Portal, behind the scenes, you can watch the magic happen in real-time. 
We're constantly innovating the template design area and have exciting additions planned for the coming year. Think Memory Mate, Teammate, or Sports Mate; the choice is yours. Watch this space; these are coming very soon!
Whatcha waiting for? It's time to elevate your design game with the Template Designer. Take inspiration from existing school designs and add your own flair, transforming them into something better and faster.
Want to read more about Template Designer? We've got a ton of information in our knowledge base area. If you ever have questions or need guidance, we're here to assist you every step of the way. Reach out to us anytime through Slack.