Unveiling the Magic of Studio 101
Grab your cameras and buckle up. We're about to take you on a thrilling adventure through the world of Studio. Whether you're a total newbie or a seasoned pro, this blog guides you through the basics and shares some of the exciting hidden gems that Studio has to offer. This will be a very high-level look at Studio. To see a more in-depth demonstration, watch the webinar by clicking the button below.
Ready to make your workflow better and faster than ever before? Let's dive in.
Studio's Exciting Updates
Hold onto your hats, folks. We've been hard at work adding some seriously cool new features. There's recently been a flurry of wonderful additions that are about to make your Studio experience even better. 
Don't get us started on the fresh look of the interface; it's got everyone talking! Whether you're excited about the new facelift or just eager to explore new functionalities, there's something in store for everyone. Click here to view the down-low on all Studio's recent updates.
Exploring the Basics
As you step into Studio, you'll find yourself faced with sessions. Think of these as folders that neatly hold your individual photography jobs, complete with subject data and their images. The best part? No fumbling around with buttons; you can jump straight into a session just by clicking anywhere on it.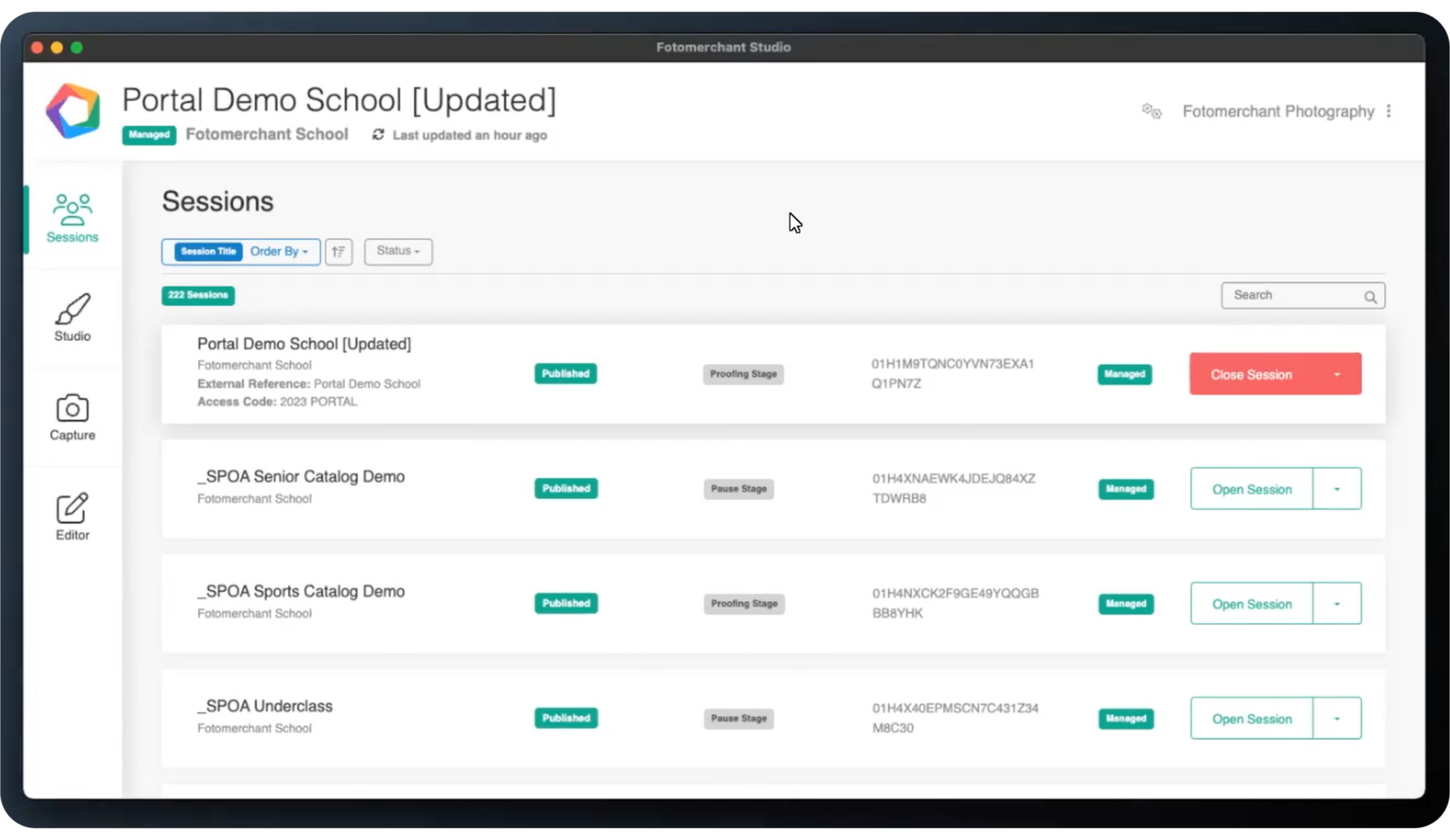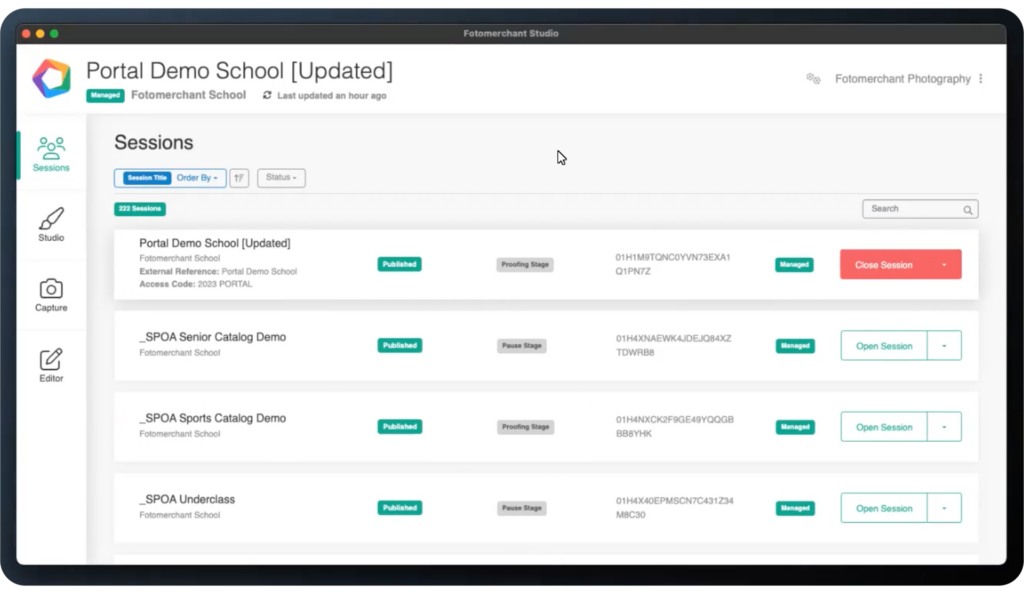 Once you're inside a session, this is where the real magic happens. Here, you can see images, subjects, and groups. Once in the subject area, sort through your images with our clever layered filters. You'll feel like a digital wizard with filters that let you sort images based on smiles, open or closed eyes, and poses.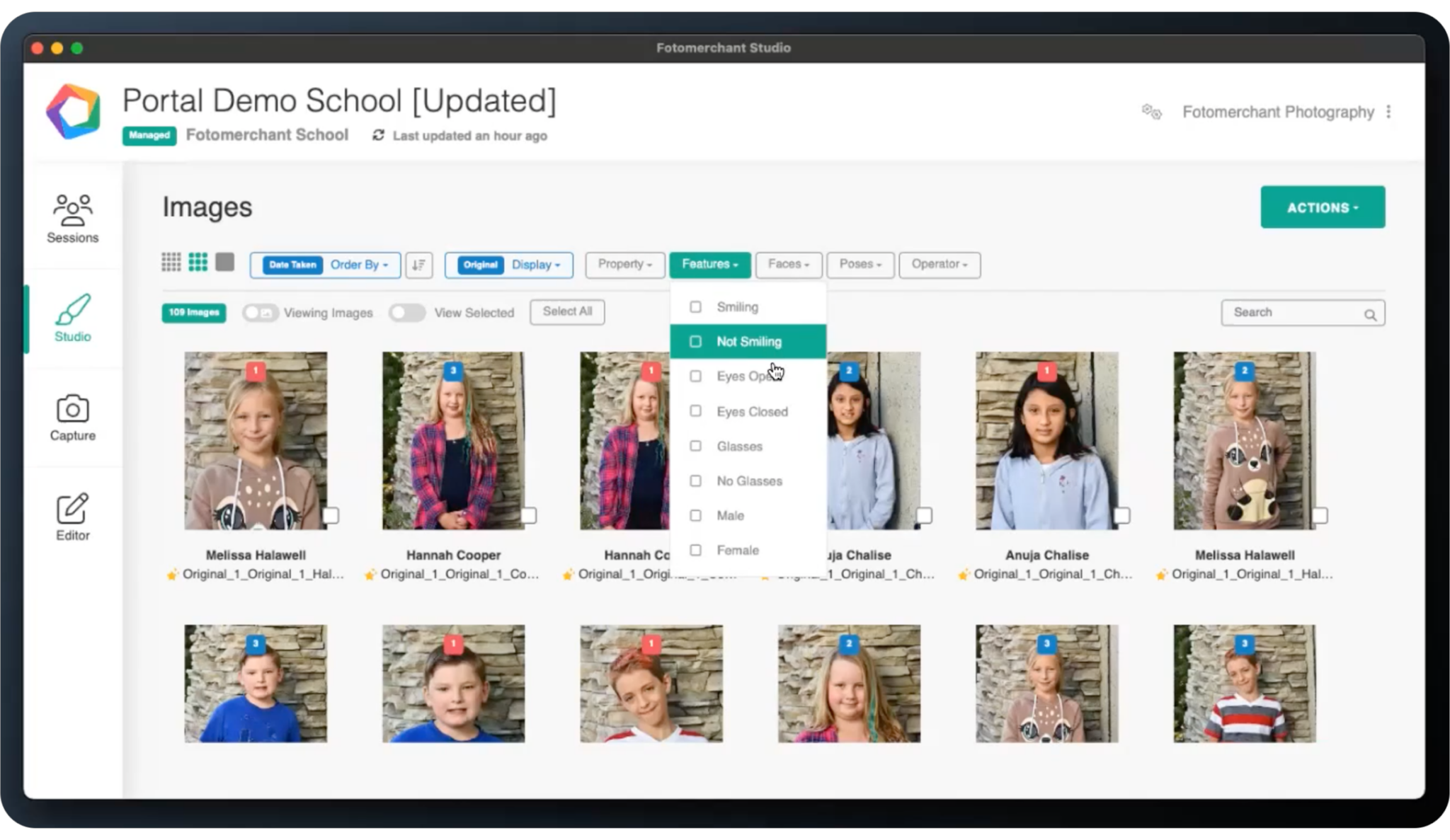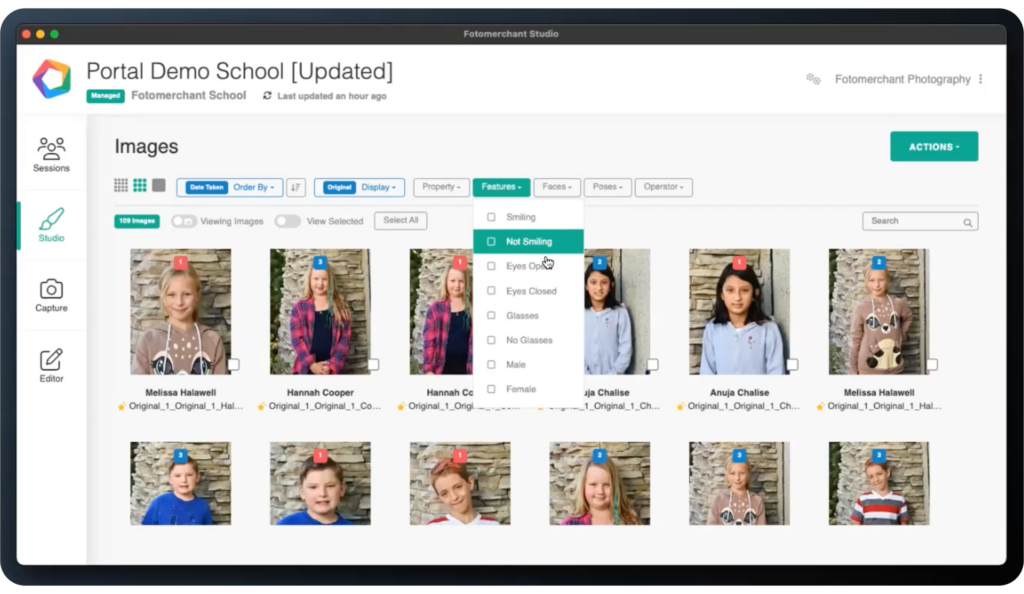 But hold on, because there's a trick up our sleeve! Our multi-select magic lets you swiftly glide through multiple images with a single click and easily cull images with eyes closed, etc. Say goodbye to tedious clicks; say hello to efficiency.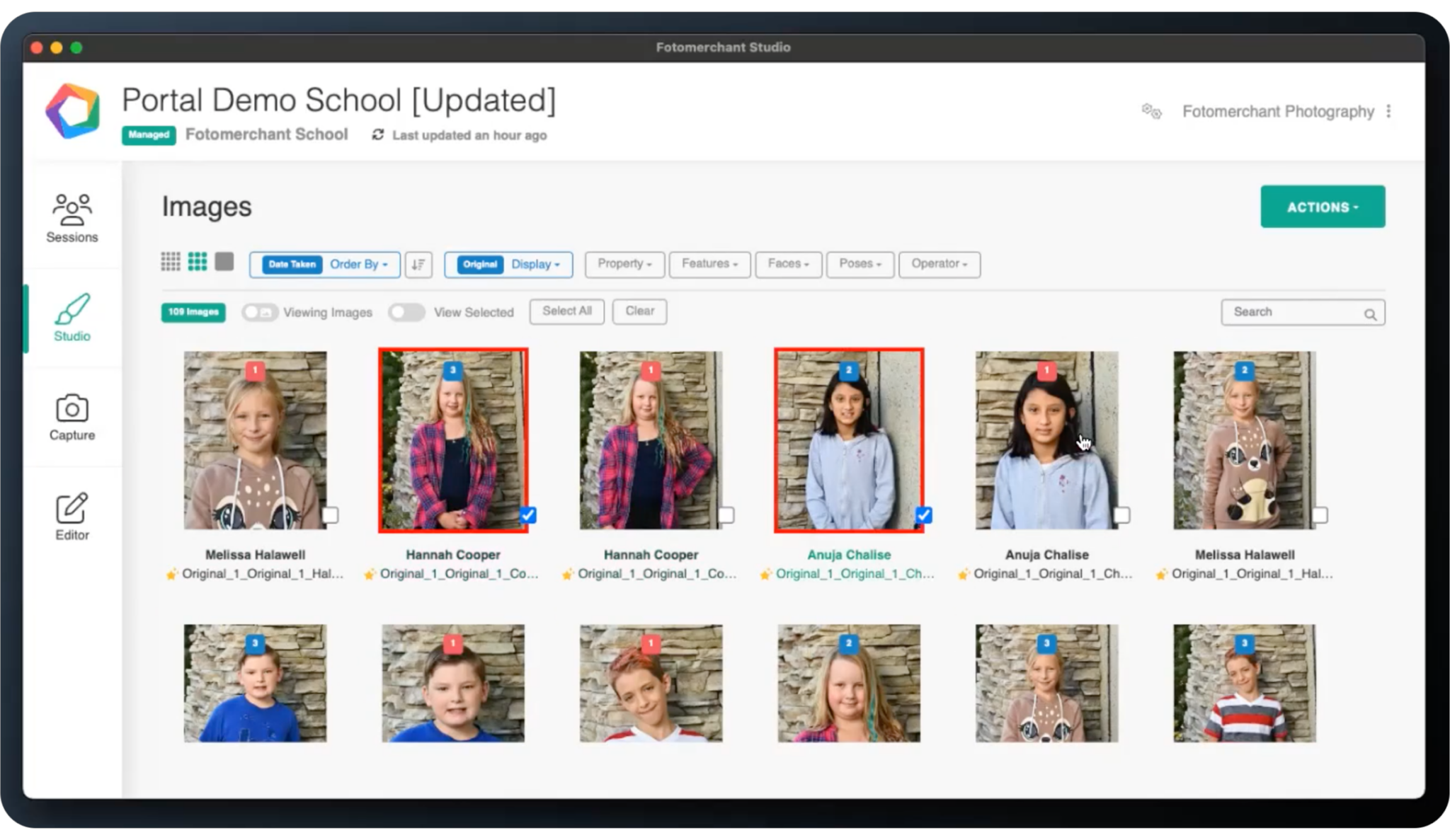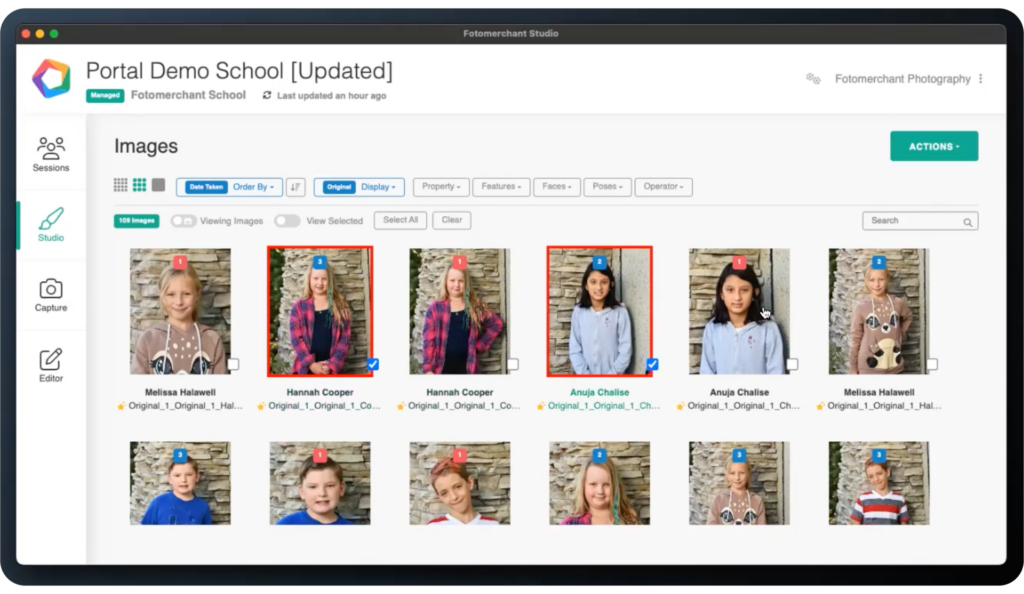 Facial Recognition and Group Organization – The Dream Team
Let's talk about facial recognition. It's about to make your group organization game so much stronger. Have you ever imagined effortlessly matching faces to names without battling typos and data messes? Dream no more. With facial recognition, dealing with groups is now a breeze. You can give rows names, assign positions, and witness Studio efficiently organize chaos. We know the data schools provide isn't always top-notch, so let Studio help you understand it!
And guess what? Every change you make within Studio will automatically occur across the whole Fotomerchant ecosystem. Yep, this includes both Commerce and Portal. Brilliant right? No need to do the whole import/export dance! We've got you covered.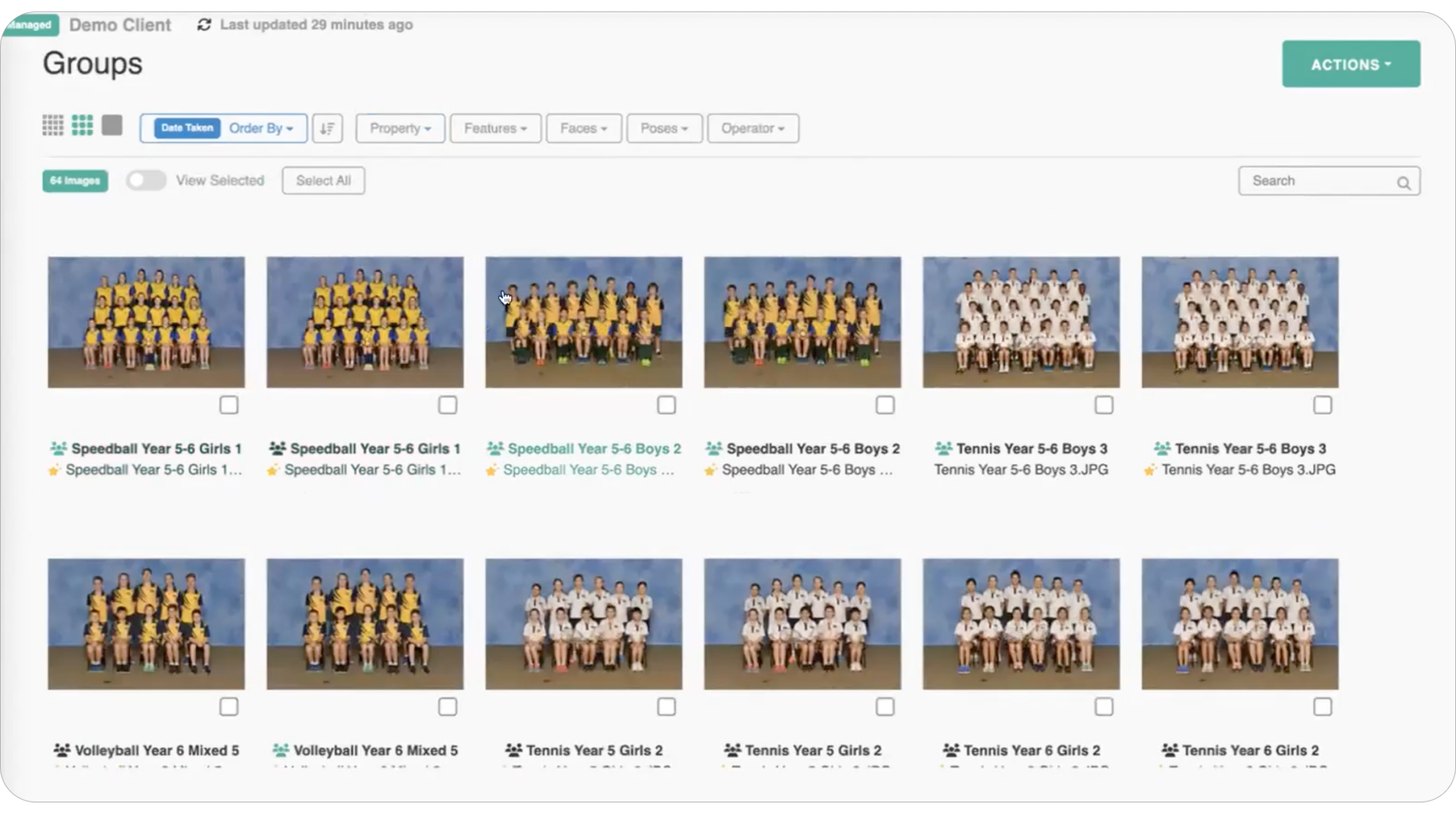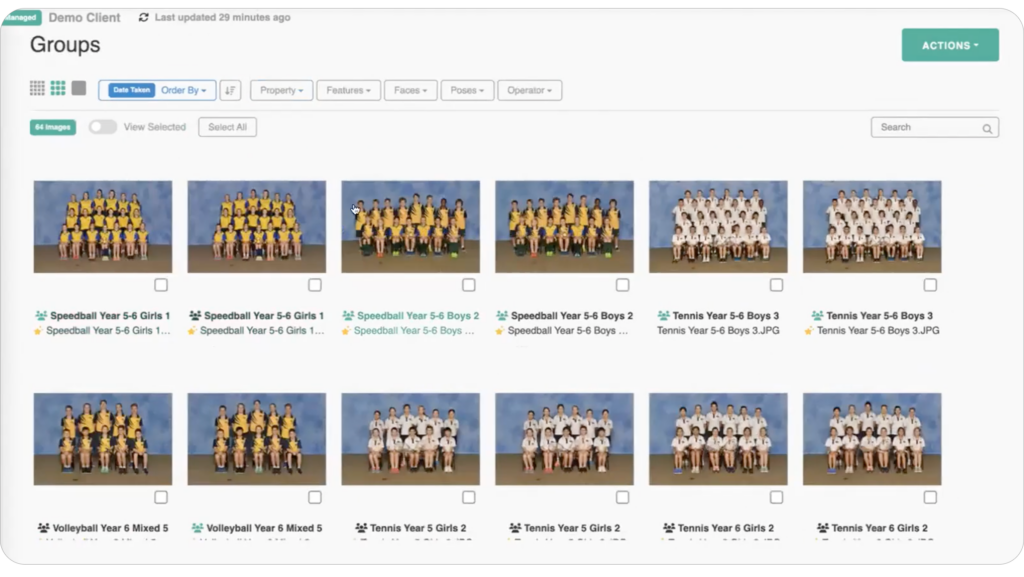 Template Editor – Unlock Your Inner Artist
Prepare to have your mind blown by the template editor. This is where you can craft stunning ID cards, memory mates, certificates, and more, all with your unique touch. But wait, there's more! Advanced rules that put you in control: dynamic logos, color shifts, and text transformations. This is the place where your artistic vision and Studio's tech prowess come together in harmony. 
Mastering Shortcuts 
If you're all about efficiency, you'll love Studio's keyboard shortcuts. Zip through subjects, choose poses and perform bulk actions with just a few clever key presses. Watch our recent webinar to learn how you can access this holy grail of Studio shortcuts. Oh, and don't worry, we've accounted for both Apple and Windows users!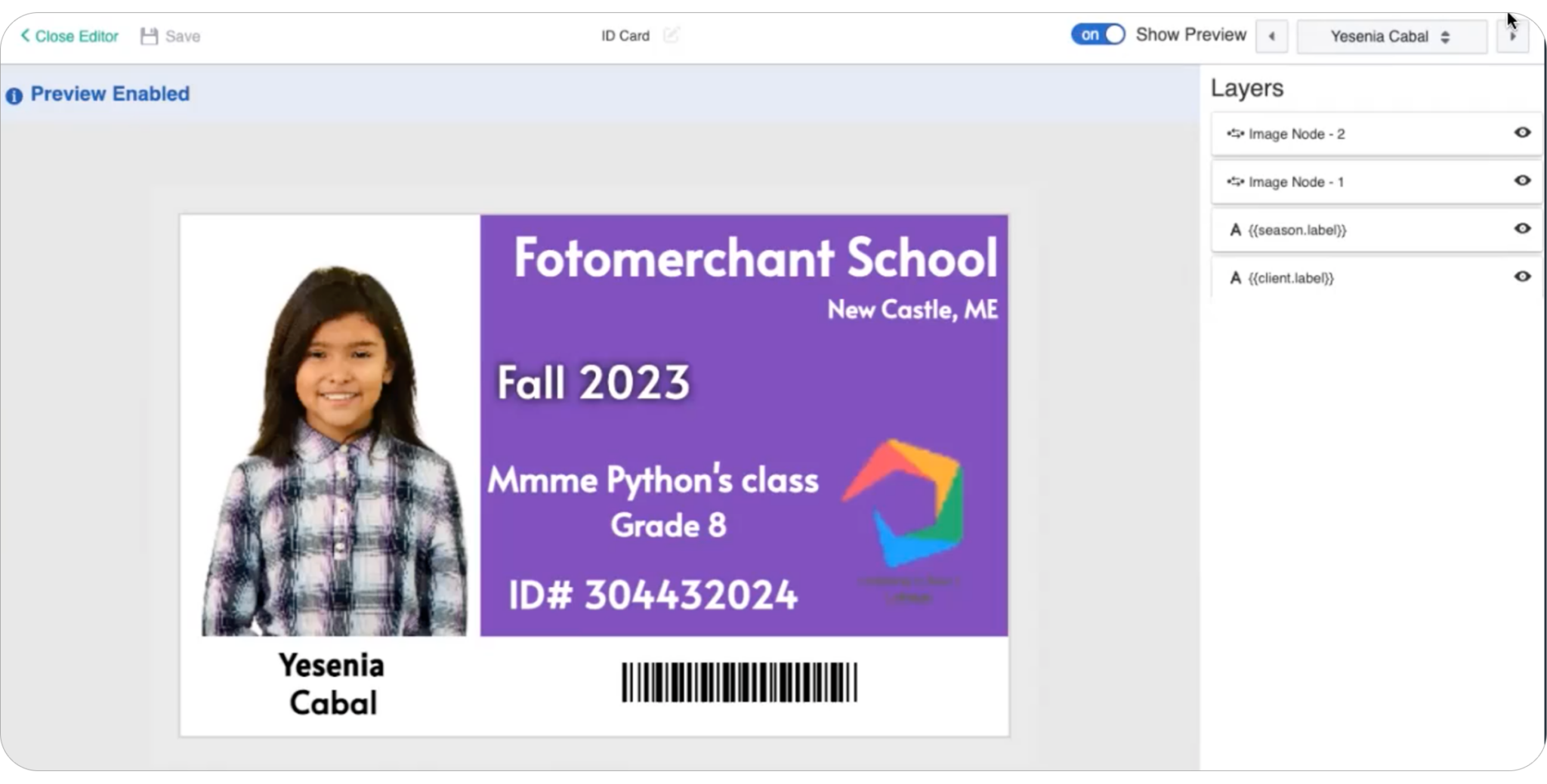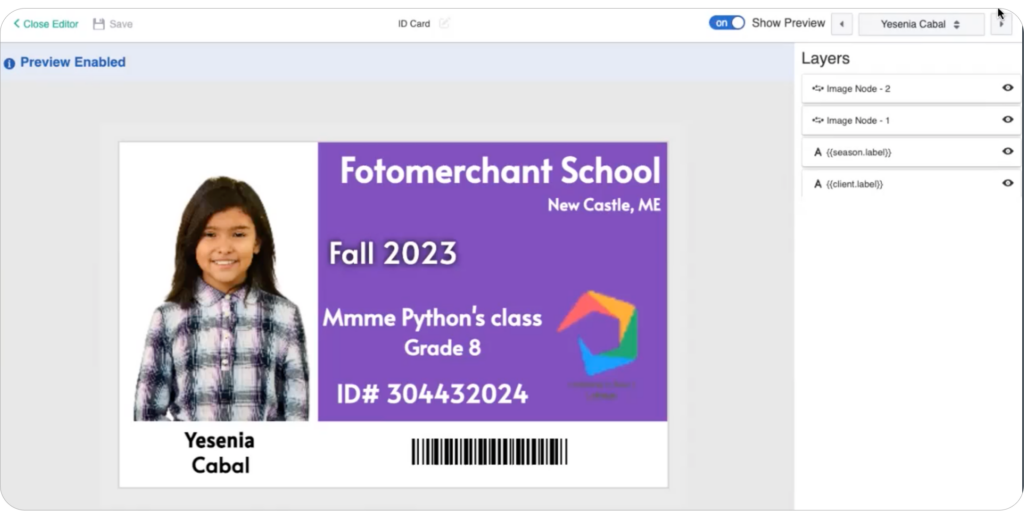 And there you have it. Your crash course in Studio 101! From mastering image management to becoming a group organization maestro or even creating unique templates, Studio's got your back. 
That's just scratching the surface of what Studio can do. Watch our webinar hosted by Christian Perry and Tearah Fox to see a more in-depth Studio deep dive.