Imagine this. Colleagues push together to get snapped, and lanyards swing to and fro on the dance floor. There is an undeniable buzz in the room as the networking event kicks off in full swing. So why wait for this excitement to die down? Start selling images instantly while your eventgoers are feeling #alive. Nothing beats the excitement of seeing your pictures being dispersed in real-time.
Let me walk you through how the combination of facial recognition and capture device can have event-goers register their faces pre, mid, or post-event and instantly be linked to their images.
Better? Faster?
Yep. All of the above.
Register
The magic of our facial recognition starts here, with the registration step. Pre-event, you can have the event organizers send an email and SMS with a direct link to a super simple registry page. Here on this page, you can choose which information to collect from your subjects. Choose which details you want to add, e.g., grade, last name, or business name, every photoshoot is different, so this is customizable. Oh, and yeah, we support international numbers. Please note an individual phone number per person is required to register.
Once the subject enters all their information, they will go through a small guide that shows what not to do when capturing a selfie. This selfie will be used as a base image to identify the person. Yes to a clear front-lit image, no to a selfie taken with a group of celebrities at a miscellaneous award show.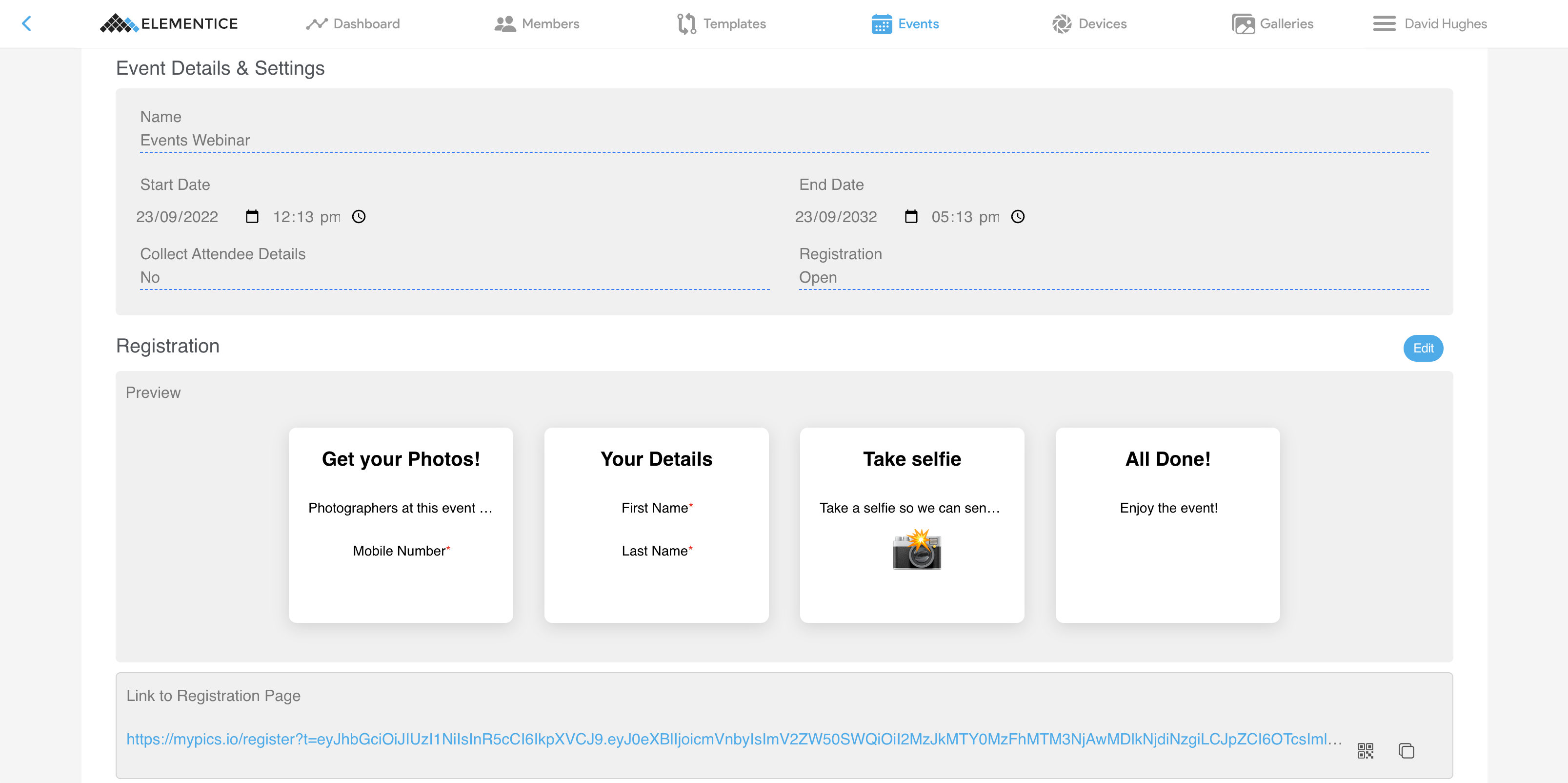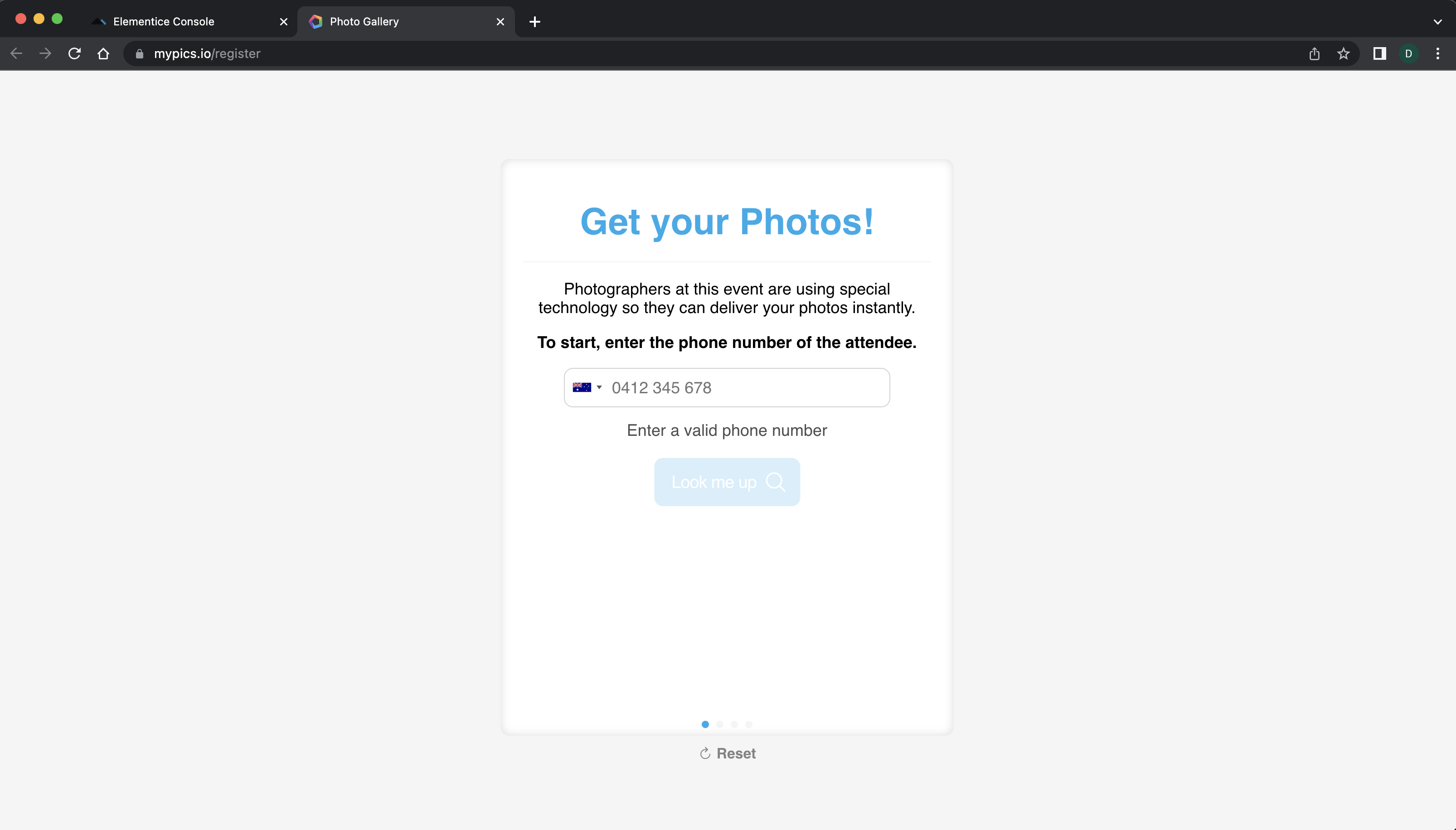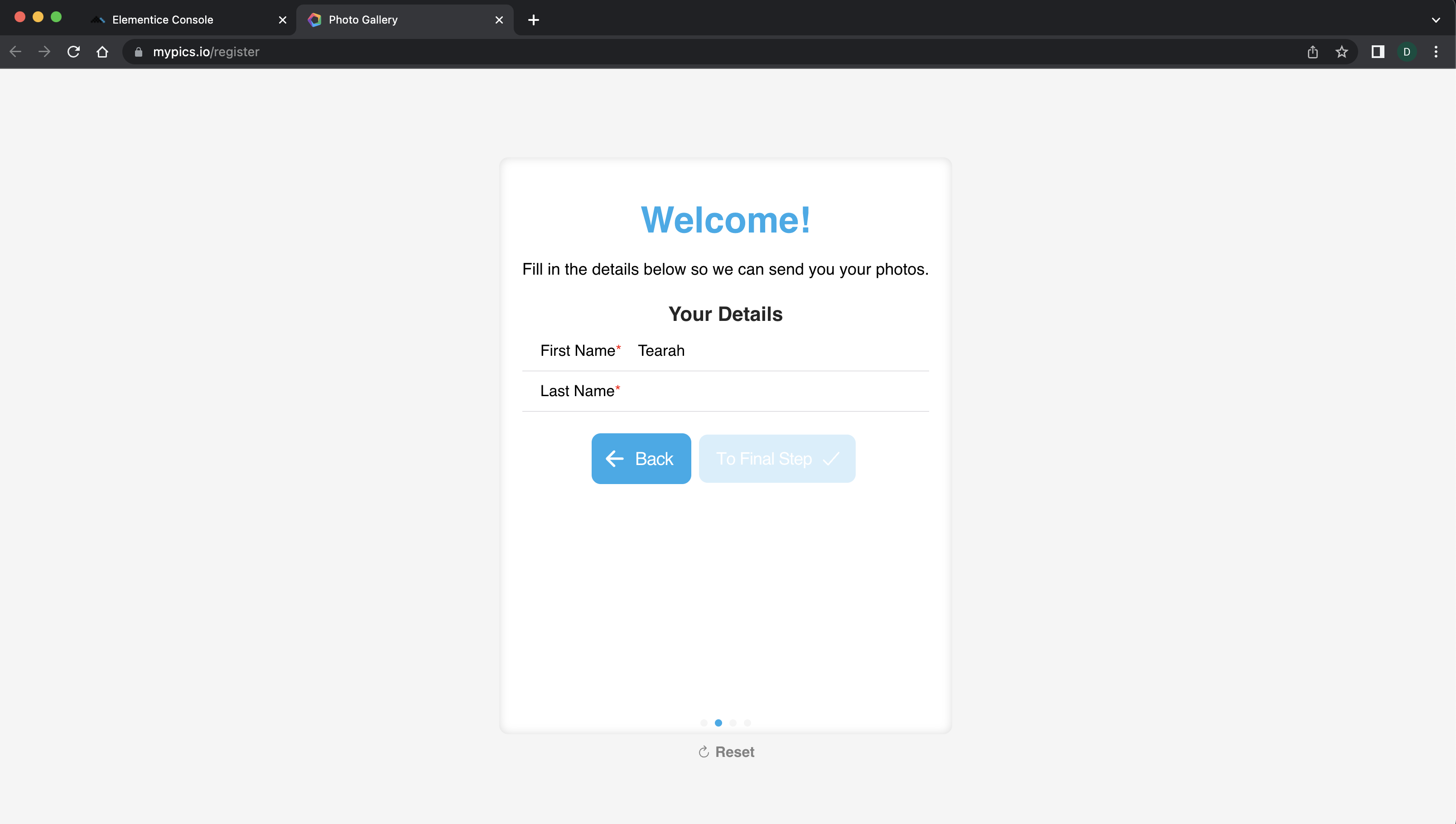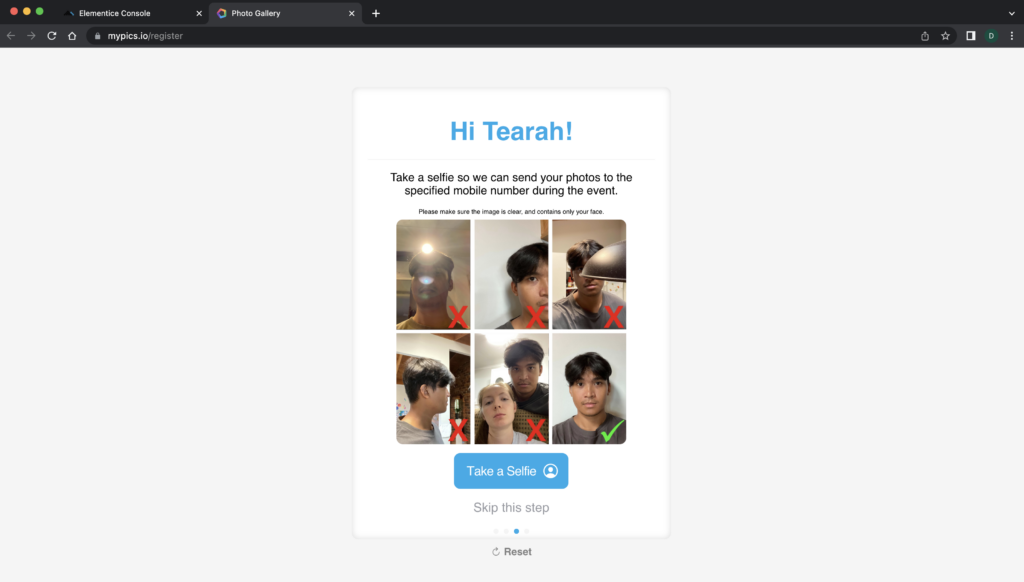 They take a quick snap of their unique face, and boom, using facial recognition, the system will find all images taken that show that face. Pretty neat, huh? No need to manually sort through photos. Let the algorithm do the legwork for you. Welcome to the future!
Can't disperse this register link ahead of time? Well, sorry about your luck…just kidding! You can have event goers register mid and post-event. Easily print out the QR register and display it in the venue, so all customers need to do is whip out their phones and scan to register. Once an image is submitted, they get a confirmation SMS, and then they're off to throw down some groovy moves on the dance floor. One cool aspect is that they can still be identified if the customer registers after their image is taken. So you can leave this registration open for as long as you need and capture those busy customers post-event.
Capture. Sell. Smile.
As you snap, snap, snap away, hear the bing, bing, bings of customer phones as their images are instantly delivered. Warning: Customers may become distracted on their phones as they scroll through pictures of themselves and begin to place orders. Sounds like a good problem to have, right? Customers will be linked only to images that they are in. There is no need to scroll endlessly down extensive galleries to find the five photos of yourself with your same old awkward smile. Have them delivered straight to your customers!
You can tweak this SMS and link to say whatever your heart desires: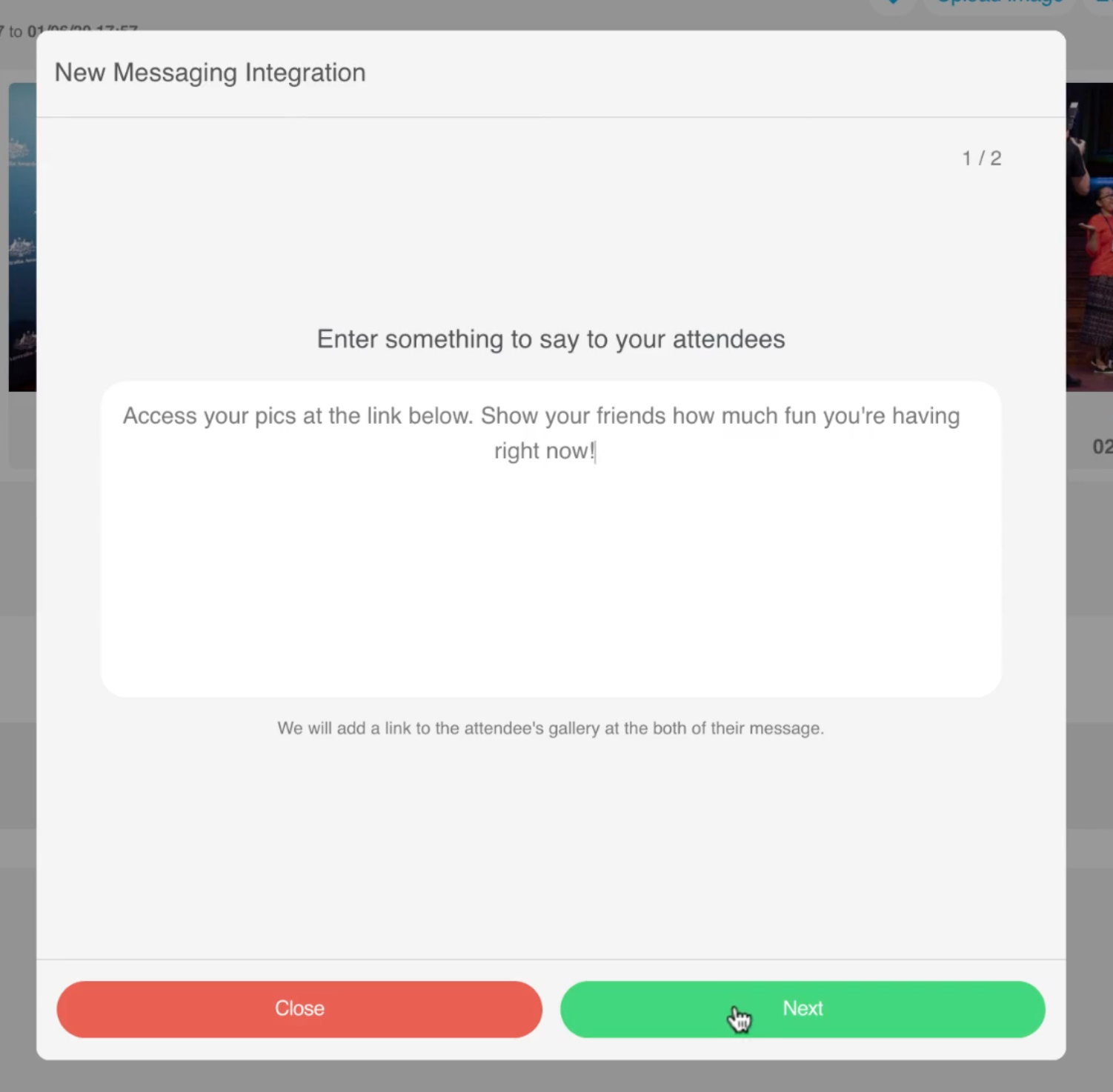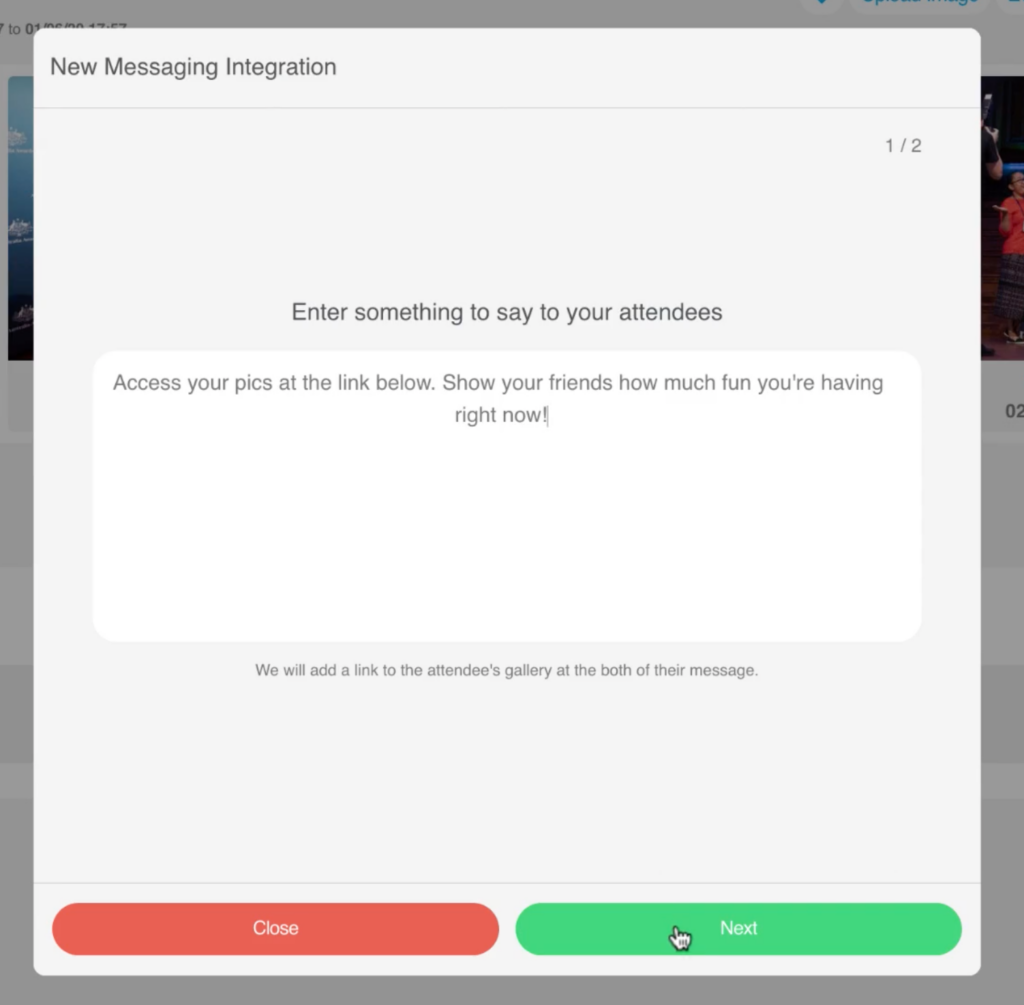 You can easily search for specific customer images by filtering via their face and view the image count of their pictures. If a bad selfie was initially taken by the subject when first registering, you can quickly problem-solve this.
Of course, this type of system is not exclusive to business networking events. You can use this for graduation ceremonies, proms, comic con, and much more! If you are photographing sports events, facial recognition can be used within limits; of course, if a helmet obscures the face, this will cause issues with identification. In situations where the face may be obscured, gallery cards can become an option.
Well, that's about all I wanted to say about facial recognition and capture! If you are entirely new to a few of the terms I mentioned in the blog above, we have an excellent knowledge base where you can learn more about capture, facial recognition, and how to adjust the SMS message and gallery cards. Our knowledge base is constantly being updated with the addition of new releases that will help to clear up any remaining questions you may have. We also have a webinar on this topic. Please reach out if you would like a demo or to learn more. Ciao!