Don't you love when things come together? Our integration with Perfectly Clear is complete, and it's a total game changer. Perfectly Clear by Eye Q has been utilized by top imaging companies worldwide for over 20 years, so we are excited to bring them into the fold.
Never look back as you use AI technology to bulk automate up to 40 corrections and streamline your production workflow. Nice.
How Does it Work?
This fantastic automated image correction technology will open up a world of possibilities for our studios. The Perfectly Clear toolbox is filled to the brim with exciting automation opportunities; here are some of our favorites:
Automatic Color Correction to ensure that the photos look as close to real life as possible.

Intelligent Relighting allows you to fix flash misfires or subjects moving out of the light.

Adding Depth to faces so you can say bye-bye to dull portraits 

Cameras are notorious for picking up infrared in the skin — we can fix that. Perfectly Clear's AI Skin Tone Accuracy ensures all skin tones are corrected from the dreaded infrared.
 If you're like me, you need to see it to believe it. Well, here it is: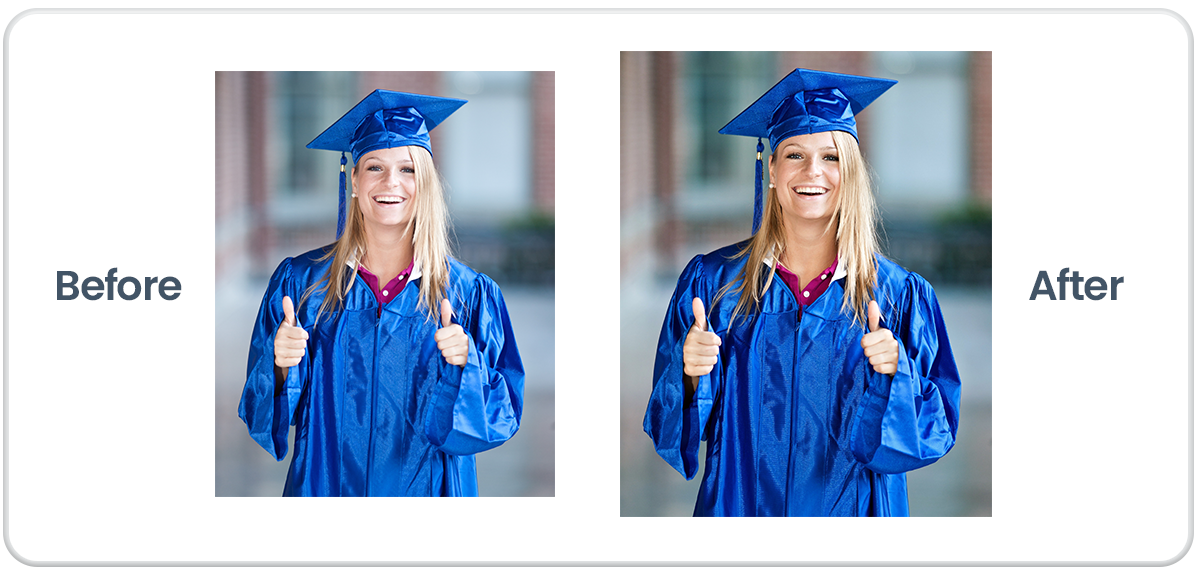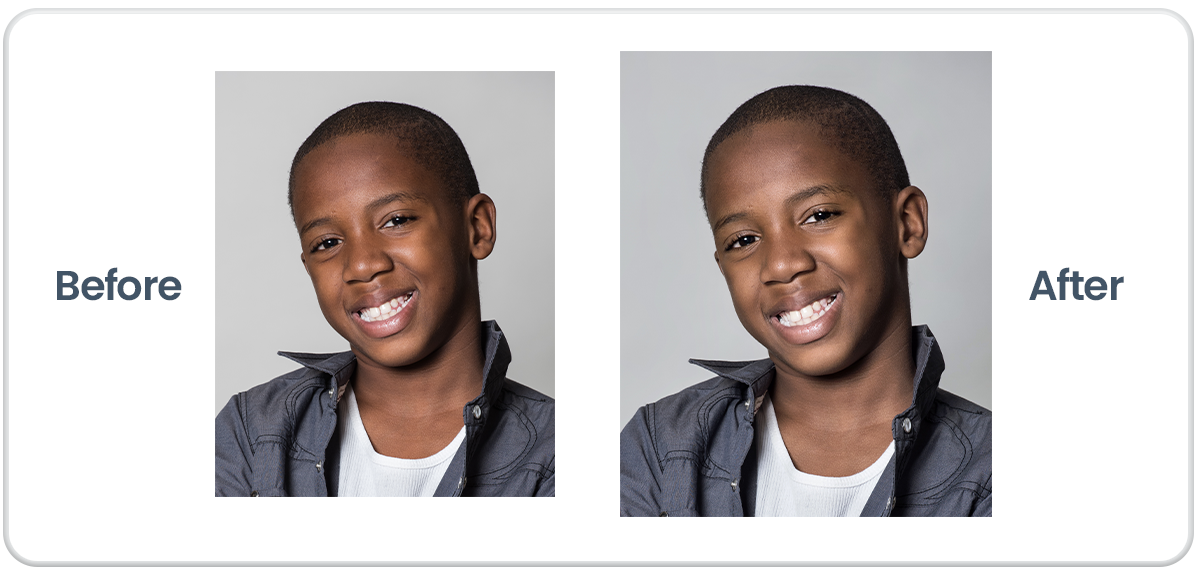 Each image is different, so any automation must be reactive to the nature of the image; this is part of Perfectly Clear's approach, as they can read the photo's contents and correct it accordingly. For example, a poorly lit photo where the flash didn't go off as suspected should receive a different exposure correction than a well-lit photo. Perfectly Clear can sense that and correct it based on the needs of the image. Brilliant right?
Use this in whichever capacity you need. You'll be able to turn on/off "Automatically Enhance Images" when Studio is enabled for a Session and Session Template.
When automated image enhancement is enabled:
It is applied to a JPEG image before generating a knockout PNG image.

It is applied to pre-knocked-out PNG images uploaded to Fotomerchant directly.

It is applied to all images, individual, small, or large groups.

Images that are automatically rejected will not be enhanced with Perfectly Clear.
Take control of your workflow and set whether image enhancements via Perfectly Clear will use "Auto" or "Scene" presets.
Auto: Use the powerful iAuto '21 preset for consistent color.

Scene: Use AI-based technology to automatically pick the best Perfectly Clear preset for the image.
Let's see how this integration looks from your end:
Watch the enhancements take place in a matter of seconds:
Compare the before and after of your photos by accessing the image history. Flip between the original and enhanced images to review the magic at work:
Real World Impacts
You can't argue with hard data. One of our studios, Barberito Photographers, was able to edit 300% more photos every day. Perfectly Clear wrote a blog about Barberito's experience with their new and improved image quality. Click here to check it out.
With better images, more sales are bound to follow. Using Perfectly Clear's technology, Norwegian Cruise Lines experienced a 12% increase in sales volume. When people look better in their photos, they are more inclined to purchase. We're only human, after all.
Better, Faster, and now Clearer.
Like Spaghetti and Meatballs, Fotomerchant and Perfectly Clear are perfect for each other. Our complimentary services make for an iconic duo. Better, Faster also resonates with Perfectly Clear as they strive to save customers time and money with a superior product. Together, we will provide your studio with automation that will give your business a competitive edge.
You asked, and we delivered! You can now have your images enhanced and color corrected in bulk. No more painstaking manual editing, Perfectly Clear allows you to automatically edit hundreds or thousands of photos in just minutes with jaw-dropping results. Sound like something you're interested in? Reach out to your friendly Fotomerchant support if you want to learn more about how this could work within your account.
When we say Better, Faster; we mean it. This integration will dramatically streamline your workflow as you save time with color correction and basic enhancements. So whether you are a current customer of ours or a soon-to-be convert, reach out today to find out how you can utilize our integration with Perfectly Clear.