You sit down to make an order, but then a bird flies in the room, the baby starts crying, and a storm begins while the washing is still out on the line! Life happens. Customers often have their time intercepted by an array of distractions that prevent them from completing their orders. But, sometimes, all it takes is a little nudge, and boom, they have ordered some prints! Abandoned cart emails are one of the oldest tricks in the book and act as a gentle reminder for a customer to complete their order when life gets in the way. 
We provide our studios with the capability of automated abandoned cart emails. Although they are simple in premise, they sure are effective. Yep, I said automated. Workflow without the work!
What is an Abandoned Cart Email?
Abandoned cart. Oh, the horror! That bundle of words can bring fear into any studio's heart. However, when I say abandoned cart email, that's a different story. An abandoned cart email will be sent to any customers with products in their shopping cart who have not completed one of these two actions: completed an order or cleared their cart. The email will wait four hours before sending and include a direct button link back to the shopping cart with the products still inside. Handy eh?
Here is one of our generic abandoned cart emails that has been tried and tested by many of our studios.
Your abandoned cart email workflow can also include a follow-up reminder which is sent four days after the initial to anyone who still has products in their cart and hasn't completed an order or cleared their cart. So scoop up those extra sales and give customers the gentle tap on the shoulder they need!
Some Real-Life Evidence
The influence we have seen of abandoned cart emails on studio revenue is impressive. We believe an online shopping experience should never exist without an abandoned cart email. All the data you are about to see below is real; gathered evidence that abandoned cart emails are totally awesome. Take studio X, for example:
Over the spring season, around 54,969 abandoned cart emails were sent to some forgetful and distracted customers. Around 60% of customers opened the email. Of those customers, 30% opened the shopping cart back up, and 36% of those who clicked the link placed an order. That was the cumulative percentage of conversion rates for all those data nerds out there. The overall conversion rate was 6%. Before I hear you say, "6%?! That isn't much", let me put that into perspective. For this studio's case, that 6% brought in 3,545 extra sales, which wouldn't have occurred. Not using abandoned cart emails in parallel to your online shopping cart is truly leaving money and sales on the table. We would much rather you have that extra revenue safe and sound in your wallet.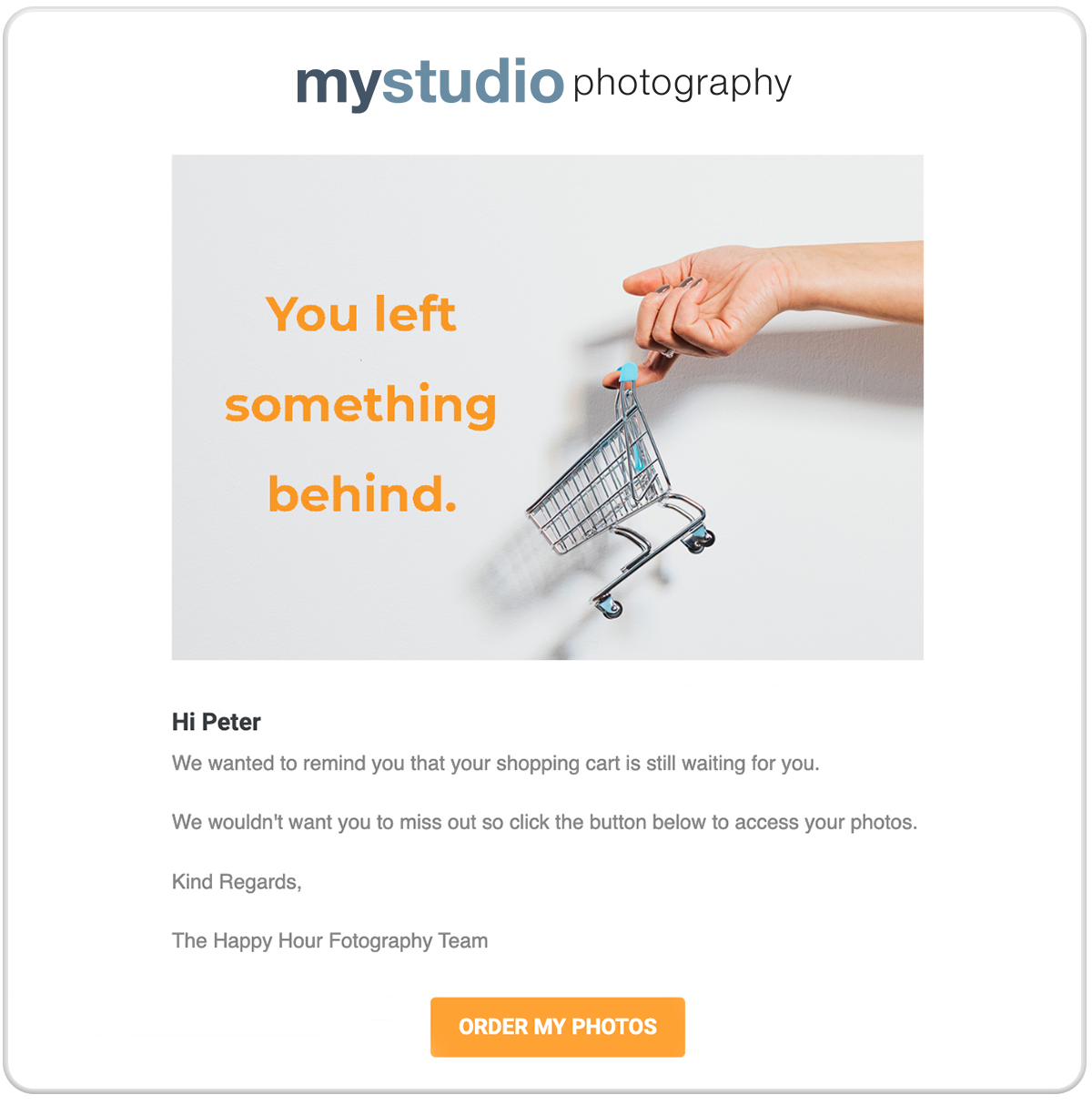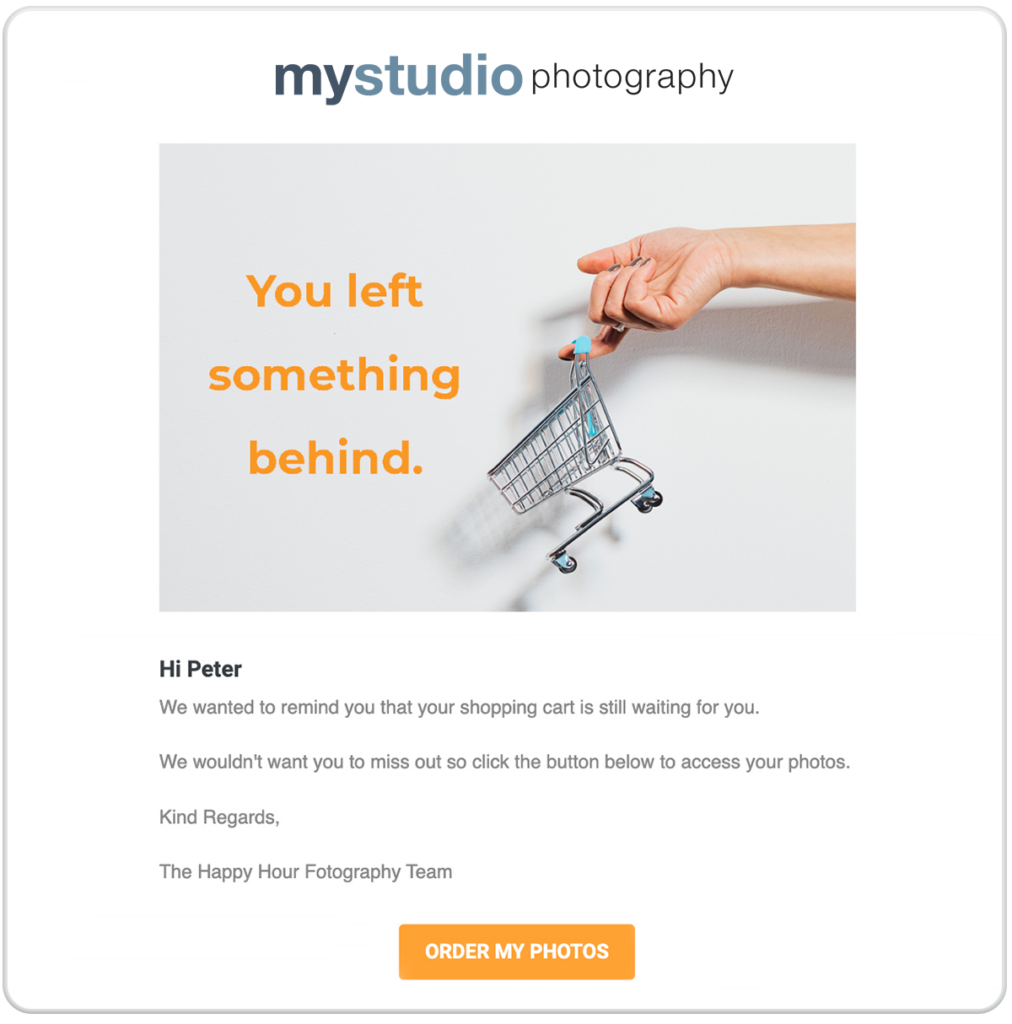 Customize, Split Test, and Learn!
In past posts, I have briefly mentioned our split testing capabilities; well, here they are again. You can not only generate more profit using abandoned cart emails but also learn more about your customers. You can also split test different abandoned cart header images, button sizes, and email copy. Seeing as our abandoned cart emails are automated and ongoing, why not test on this stream of customers? You can determine what defines a winning email copy and set a time limit. Once the test is complete, the system will use the winner as the new email going forward. Learn about your customers through split testing to market to them better in the future! Click here to learn more about split testing. 
For some situations, abandoned cart emails aren't the best protocol. Know of a client that is particularly sensitive to their parents/subjects being emailed? No problemo. We can set the abandoned cart email to ignore any customers linked to that specific client. So you can keep raking in those extra sales with other jobs and exclude the ones that would prefer no extra marketing. Customers can also unsubscribe, or opt out of marketing/abandoned cart emails anytime. Yay for options! 
If you want to learn more about our abandoned cart emails, I have great news for you! We have an upcoming webinar where we'll explore the ins and outs of our abandoned cart emails. Make sure you follow us on our socials for the latest registration information.