A pioneer in e-commerce for photography studios everywhere, Simplephoto are one of the longest-running and most respected platforms in our industry.
It's a really exciting moment for us and a huge step toward our mission of creating a workflow without the work.
You probably have a bunch of questions and we promise we're going to get around to answering them in the days and weeks ahead. We will be sharing more information shortly so make sure you stay tuned to our social channels and keep an eye on your inbox but if you feel like you just HAVE to know something, don't hesitate to get in touch or read the full press release below.
Please join us in welcoming Simplephoto to the Fotomerchant team.
Kinds regards,
Derek, Elmar and the entire Fotomerchant team.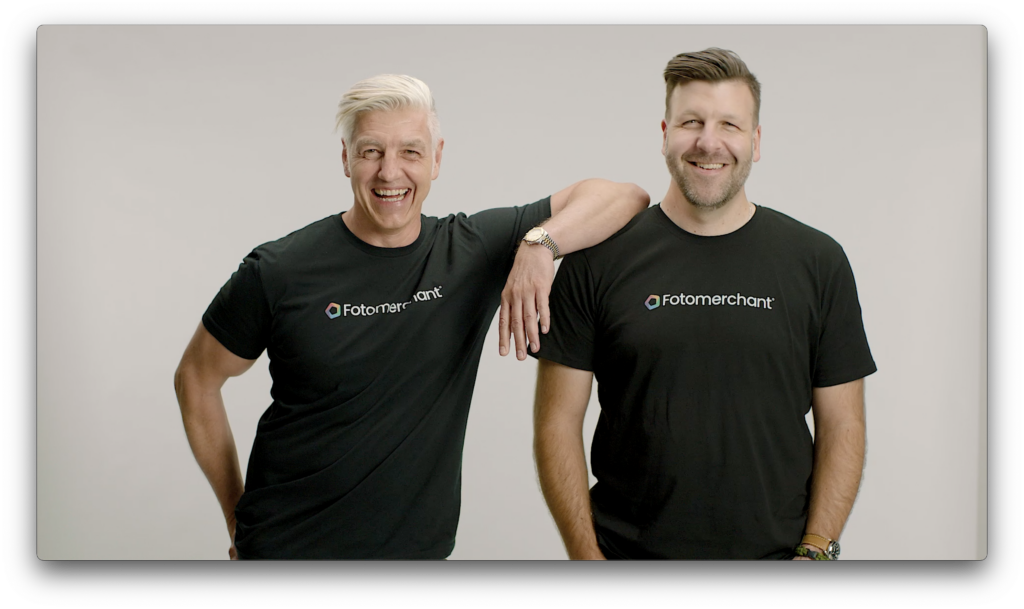 PRESS RELEASE:
---
FOTOMERCHANT COMPLETES ACQUISITION OF SIMPLEPHOTO
The world's #1 workflow platform for volume photography studios and a pioneer in e-commerce for photographers have come together to transform the global volume photography market.
Customers will be able to unlock even greater value through the release of new automated tools to make their workflow better & faster.
---
SYDNEY, Australia. – 23rd February 2021 – Fotomerchant, the leading workflow platform for volume photography studios, today announced it has completed its acquisition of Simplephoto, a pioneer and one of the longest-running e-commerce platforms for the photography market. This marks the first acquisition for Fotomerchant as it continues its expansion into global markets.
Comments on the announcement: 
"Simplephoto is an extraordinary company with an amazing team and a solid product that has been developed over the last 21 years," said Elmar Platzer, CEO, Fotomerchant. "Combining our highly capable, committed teams, and customer bases will provide us with the scale required to further accelerate what already is an industry-leading rate of innovation. This acquisition perfectly supports our vision for the industry, which is to provide volume studios with an alternative to the old way of working – by delivering powerful AI-driven tools and insights to transform their workflow."  
"When we first met Fotomerchant a few years ago, we had an instant connection with their team. Their passion for challenging the way studios work and improving the industry really resonated with us" said William Metz, Founder of Simplephoto. "The workflow solutions and reputation Fotomerchant has built in a few short years are extraordinary. When they approached us last year at SPAC 2020 and offered to acquire us, we knew it was the right decision for our team and our valued customers." 
A clear goal to move the industry forward
With the acquisition of Simplephoto, Fotomerchant will be further enabled to drive the volume industry forward through innovation and technology. The addition of the Simplephoto team will make Fotomerchant stronger than ever, bringing more than 30 years of expertise together with a singular vision of driving the industry forward.
Working better and faster together. 
Combining the development and support expertise of both the Fotomerchant and Simplephoto teams ensures that customers will continue to receive the best workflow solution possible today and into the future with accelerated innovation and product development.
A relentless approach to quality support
Today's volume studios need the best support possible. Bringing the two most recognized support teams together ensures that Fotomerchant customers will get the most responsive and personal support in the industry.